Andrew Seybel 01: "This has to be a development ship. A late model F6F-3 with the -5 antenna and -5N armament (cannon substituted for inboard .50). However, gun fairings suggest an early -3 and red insigne bars only add to the confusion. I read that some -3Ns were modified in the field to carry the 20mm, but that doesn't explain the more vertical radio mast or the gun fairings." COMMENTS
---


Andrew Seybel 02: "Looks like an early -3, but no guns. Possibly XF6F-4 before the cannon installation?"
---


Here comes Blocher again with his #3. One of two from 1927, it looks familiar, but then they all do after a while. Has a bit of Taylor Chummy look to it. COMMENTS
---


Blocher #4 from 1927. No data or location. COMMENTS
---


Leave it to Eric Blocher to dredge up the real oddballs. Twin-boom, twin-tail but what? It starts off like a Fairchild 24R up front, then goes off in another direction.
---
Shriver


We received two photos of this rare bird, but data are lacking on what looks like a Curtiss copy with droop ailerons. Take a look at it on the Sa to Si page, see if any bell rings. Tod Shriver, himself, is documented on the Early Birds web site.

---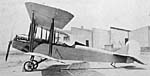 Looks like one of the swept- wing Standards (an H or J?) with a Curtiss R nose, but balanced rudder (Fokker?) and tower radiator don't compute. COMMENTS
---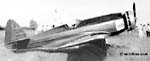 A leftover from our old Whatzit page, captioned Aero-University. Not a PT-19 mod, as was a frequent guess, but more likely is a student project from the '30s. COMMENTS
---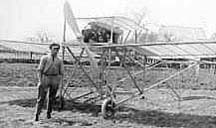 From out of the mists of 1913 comes this critter with no name, no location, no data, no nothing. Click it for a triple-pic, which will probably be of no help, either.
---


Pic identified as a Yackey, but a Yackey what? Doesn't seem to fit anywhere. COMMENTS
---


John Diele contributes this mystery ship spotted on a late-'30s used car lot.
---



This one rings a small bell, but I couldn't match it with anything in Aerofiles. Markings on tail too blurry to decipher. COMMENTS
---





EXPOSED!

"Fresh air" open-sides, could be an early Taylor Cub, but what year, what model, what engine? COMMENTS
---





EXPOSED!

Modified SPAD. Name of 'DeMarcay Pursuit' does not surface, so it could be foreign. French? COMMENTS
---