The Forgotten Fliers of 1919


The First Successful Transatlantic Flight
By the US Navy's NC-4 Flying Boat


By John R Bayer
Several million people fly the Atlantic each year. Every plane that crosses does so under a system of radio communications, weather forecasting, satellite navigation, and rescue forces that is the inheritance of the first transatlantic flight, by the US Navy's NC flying boats. Today, the story of the NC Transatlantic Flight Expedition and its crews has sadly been all but lost in the dust of history. In 1919, the Navy's NC-4 and a crew of six made the first successful transatlantic flight. It took some three weeks, May 8-27, to accomplish that. Humans had only taken wing in airplanes less than 20 years before, and Lindbergh's Paris flight was still eight years away.



Near the end of World War I, the Navy requested an aircraft that would be able to cross the Atlantic under its own power and go directly into action against the German U-boat menace, which were sinking tons of merchant shipping each week. Four large flying boats were designed and constructed as NC-1, -2, -3, and -4 under a joint venture of the Curtiss Company and the Navy. Because of damage from storm and fire, NC-2 was salvaged to repair the NC-1, and its remainder became spare parts.
On May 8, 1919, NC-1, -3, and -4 took off from Naval Air Station Rockaway in Long Island, New York, with Trepassey, Newfoundland, the intermediate stop prior to their attempt at the Atlantic. After delays from NC-4's engine trouble near Cape Cod and bad weather at Trepassey, all three aircraft finally departed on the long flight across on Friday evening, May 16. In contrast to te present, these aircraft flew at 90 mph maximum, with the crews exposed to the elements in open, unheated cockpits. A scheduled stop for fuel in the Azores required more than 17 hours to reach—elapsed flying time for the entire crossing would add up to more than 26 hours!



Beleagured by engine trouble and inclement weather, NC-1 and -3 landed short of the Azores, but with high seas and waves cresting over 20 feet, were unable to take off again. Yet, NC-3 sailed and was taxied backwards some 250 miles to the Azores, a formidable adventure in its own right! NC-1 was abandoned to the sea, but the crew was rescued by a Greek freighter. NC-4, after what seemed like impossible delays in weather, engine repairs, and other problems, finally made Lisbon, Portugal, on May 27, becoming the first aircraft to cross the Atlantic.



NC-4 was the first in 1919, and for always. Its place in history and the significance of its flight have long been diminished by the public's love of heroics. The crews were soon forgotten as America looked to peace and prosperity after the war. This was best demonstrated by our Congress, which took more than 10 years to appropriate the meager budget needed to award special medals which were authorized for the NC crews. Four presidential elections passed before the men stood at their White House ceremony!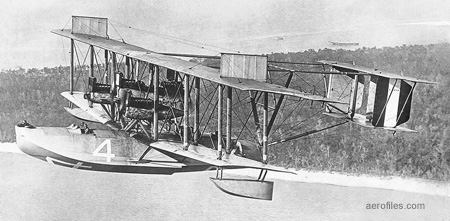 NC-4 on an old postcard


Today, one sees at St. John's, Newfoundland, a plaque commemorating Alcock and Brown for the second successful Atlantic flight, and there are monuments to that epic in Ireland and at Heathrow Airport near London. While the British saw fit to dedicate a plaque to the NC-4 at Plymouth marking the actual end of its flight, and the Portuguese featured a similar tribute at Lisbon, it took until the flight's 50th anniversary in 1969 for our country to place a marker at Rockaway, where it all began, and that was solely due to citizens of the community. Neither the American aircraft industry, or what's left of it, nor the airlines that dominate the North Atlantic have ever felt a need to establish even the most basic memorial to the NC Transatlantic Expedition at New York City's Kennedy International Airport. Yet every flight that takes off from its runway 25L is barely airborne when it overflies the site of that long-gone NAS Rockaway.



In the summer of 1919, American composer Frederick Bigelow was so moved as to write a song, "The NC-4 March." Each year at 4th of July celebrations and on town greens, this tune can still be heard from brass bands, but very few know the cryptic significance of its title.



NC-4 was restored by the Smithsonian's National Air and Space Museum and the US Navy for its 50th anniversary, and another six years before being placed on permanent display at the National Museum of Naval Aviation in Pensacola, Florida. NC-4 finally had a place of honor. The plane would not have survived at all had it not been for the efforts of the late Dr Paul E Garber, former curator of NASM, who shepherded NC-4's remains from the 1940s until it was restored.

The flight of NC-4, its lessons and its blazing of the Atlantic airways, are largely unknown today. Many Americans think Lindbergh made the first crossing; Englishmen applaud Alcock and Brown. At the time, some thought it not "sporting" that the Navy placed ships along the route to aid navigation, and that the flight took so long to accomplish. Still the NC-4 was, and ever shall remain... First Across the Atlantic!



THE CREW OF THE NC-4:


LtCdr Albert C Read, USN, commander/navigator



Lt Walter Hinton, USNR, pilot



Lt Elmer F Stone, USCG, pilot



Lt James L Breese, USNR, flight engineer



Chief Eugene T Rhoads, USN, flight engineer



Ens Herbert C Rodd, USNR, radio operator




The original flight of three aircraft was conceived, planned, and led by Cdr John H Towers, USN. None of this would have occurred without his forethought and vision.
---
My deep gratitude is to Dr Richard K Smith, whose ideas and research were excerpted here. He is author of First Across!, the authoritative account in 1973 of the flight, republished in 1986 by Naval Institute Press. I read the book as a teenager; it inspired me to be a part of Naval Aviation, and is the reason I am working to celebrate the flight and honor those men for their achievement. (J R B)



Under the auspices of several programs, John Bayer worked with mainstream, dropout, and learning disabled students from 1997-2002, as Vocational Instructor of the Opportunity Skyway and Skyward Bound programs, youth employment programs in Seattle. Bayer grew up around aviation in the Tampa Bay (FL) area, and served since 1978 in the USN and USNR, where he still serves, having returned to active duty in 2002. His NC history site is: www.geocities.com/firstacross.