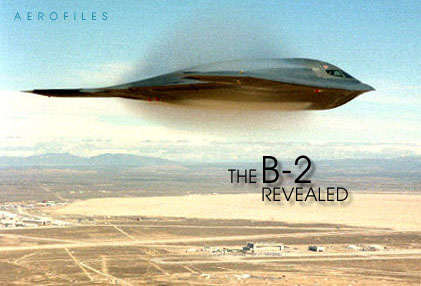 B-2 was built by Northrop/Northrop Grumman, the prime contractor. Boeing was or is one of the principle subcontractors as is/was Hughes (Raytheon) Aircraft for radar and GE for engines. The then-Vought company built the inboard wing sections with Boeing building the wings and the weapons bay.



Air Vehicle #1 (AV-1) was the first B-2 built of six aircraft for the flight test program. The original contract specified 132 aircraft, but before the first one flew the number was cut to 75 aircraft, then again to 20 aircraft, with all but AV-1 to be delivered to the operational Wing at Whiteman AFB. So, AV-7 through -21 were delivered to Whiteman, and AV-2 to -6 were returned to the factory for removal of flight test hardware and an upgrade to the final Block 30 configuration. Then about 1997, the Clinton administration proposed upgrading AV-1 to Block 30 and delivering it to the Wing. Congress authorized the funds in the form of a fixed-price contract, and AV-1 was completely rebuilt and delivered to Wing as the Spirit of America. I've heard that this was the first program where all aircraft built, including all the flight test ships, were put into operational service. That's why there are now 21 B-2s in the fleet. In a way, AV-1 was the first and the last B-2 to be built.



Northrop uses the AV number—one of their internal sequential number systems—and, at the factory level, the four-digit code, ostensibly the contractor number (c/n). It can be very confusing having only 21 aircraft with several ways of being referred to. USAF uses the tail-number system (s/n), and the Spiritnames, as well. To make it as confusing as possible they all have an Air Combat Command (ACC) number assigned in the order they were delivered to the 509th Bomb Wing. They didn't get delivered in the order they were built when manufacturing problems caused some of them to fall out of order.



<! ------------- CHART ------------>
C/N

S/N

NAME

ACC
AV-1
AV-2
AV-3
AV-4
AV-5
AV-6
AV-7
AV-8
AV-9
AV-10
AV-11
AV-12
AV-13
AV-14
AV-15
AV-16
AV-17
AV-18
AV-19
AV-20
AV-21
5001
5002
5003
5004
5005
5006
5007
5007
5008
5010
5011
5012
5013
5014
5015
5016
5017
5018
5019
5020
5021
82-1066
82-1067
82-1068
82-1069
82-1070
82-1071
88-0328
88-0329
88-0330
88-0331
88-0332
89-0127
89-0128
89-0129
90-0040
90-0041
92-0700
93-1085
93-1086
93-1087
93-1088
Spirit of America
Spirit of Arizona
Spirit of New York
Spirit of Indiana
Spirit of Ohio
Spirit of Mississippi
Spirit of Texas
Spirit of Missouri
Spirit of California
Spirit of South Carolina
Spirit of Washington
Spirit of Kansas
Spirit of Nebraska
Spirit of Georgia
Spirit of Alaska
Spirit of Hawaii
Spirit of Oklahoma
Spirit of Florida
Spirit of Kitty Hawk
Spirit of Pennsylvania
Spirit of Louisiana
21
18
16
20
14
19
3
1
2
5
4
6
7
8
10
9
11
12
13
15
17

<! ------------- END CHART ------------>


The production numbering system (c/n) is confusing, too. Planes start out as 10xx while being initially built. If they go to flight test, the number rolls to 40xx. When the plane is delivered, it rolls to 50xx. For example, AV-2 was 1002 while being built, then went to Flight Test at Edwards AFB as 4002. When it was finally delivered to the Wing, it was rolled to 5002. Those numbers were used by Palmdale to reference planes in a computer system that keeps track of the work done on them. (— John Coy 1/22/00)


---
ABOUT THE PHOTO...



The Flight Test B-2 over Edwards AFB. The large, flat, beige area is Rogers dry lake bed. The group of buildings directly under the plane is South Base, home of the "Combined Test Force," the exclusive site of the B-2 flight test program in the heydays. Today this site is used for testing the B-1, B-2, and B-52. Only AV-3 is still used for flight test, and it belongs to the 509th Bomb Wing and would be returned to them for operational needs if called upon. The water vapor (cloud) seen is exactly that, condensation from pressure around the aircraft. Once I was showing a similar picture to a new man on the program and told him it was the cloaking device malfunctioning—he bought it until I finally told him I was joking... (JC)